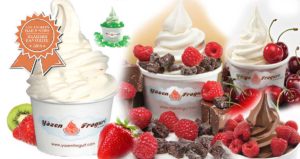 New Hours
Monday, June 14th:
Sun to Thurs: 11 am to 10 pm
Fri & Sat: 11 am to 10 pm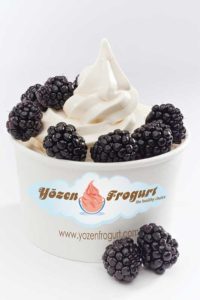 Today's Specials

Gift Card Special

Buy $25 Gift Card


Only $20
Yozen Frogurt Featured on Kris' Show
Owners Reed and Karin Kennedy opened their first Yozen Frogurt shop in West Hills, California during 2007. Karin, originally from Germany and a former nurse, owned a miniature frozen yogurt machine and enjoyed making an assortment of wholesome, frozen yogurt treats for her family. Reed, who saw the health benefits of yogurt as being deliciously good for folks, suggested they "share the good stuff" and soon afterwards Yozen Frogurt opened. Karin loves coming up with tasty new flavors. To date, she has created 70 custom recipes. "If you want a special flavor, just ask me and, if it can be made, I'll create it." Says, Karin. She also holds the secret recipe for her crumbly, Vanillekipfer'l cookies, which to the delight of her many friends are received as gifts each year.
Check Out Our Featured Flavors
We are challenged to offer our clients this discount dedicated to our three years anniversary!
Today's Specials


Gift Card Special:
-Buy $25 Gift Card
Only $20
Subscribe To Our Newsletter